Windaug Devlog 1 (Jimbo, Games, No Minecraft)
---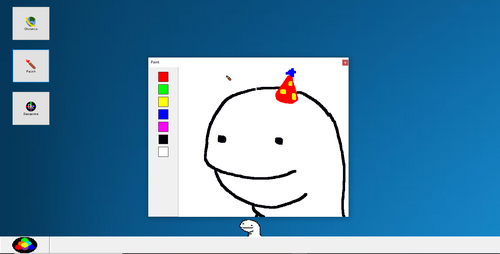 Hey everyone! Windaug Dev Team here with a little update. In our beta released today, there is a small but functional presence of Jimbo! Our virtual assistant. We are working on giving him more use, such as info on how to use various parts of our FauxS as well as fun things like tips, ideas, and of course some vine references if you really delve through some menus. He will have the ability to read text from the up and coming text editor, Windaug Lexicon. He will also star in a small built-in game for the system. We are also planning to make him customizable with different colours and accesories for a flair.

The second thing we wanted to say is that we are working on a game selection for Windaug, including some fresh games and some classics. I won't spoil too much, but all the games will either be older games, or have a retro aesthetic.
The third thing is, no, we will not have the Popular game Minecraft available on this system, because we want to make sure we aren't infringing too much on Microsoft's territory. It was in a test file shared with colleagues only. Licensed games will not appear on it, but most older games are fair play.
Thanks for checking in!

- JY, Dev Team for Windaug